We know that complementary therapies can help promote relaxation and reduce tension, alleviating feelings of anxiety and helping promote sleep. It's a really important way to help people who are facing all the stress that serious illness brings.
Did you know that each year about 2,000 patients and their carers receive complementary therapy at Trinity Hospice? It's a part of hospice care that many people don't realise is available, but it has so many benefits.
Here at Trinity we have a suite of modern therapy rooms and offer a range of complementary therapies that can be used alongside conventional medical treatment to help relieve pain and reduce symptoms. Most of our therapists are volunteers, but all are highly qualified and experienced.
Our therapies promote relaxation and wellbeing – and there's something for everyone.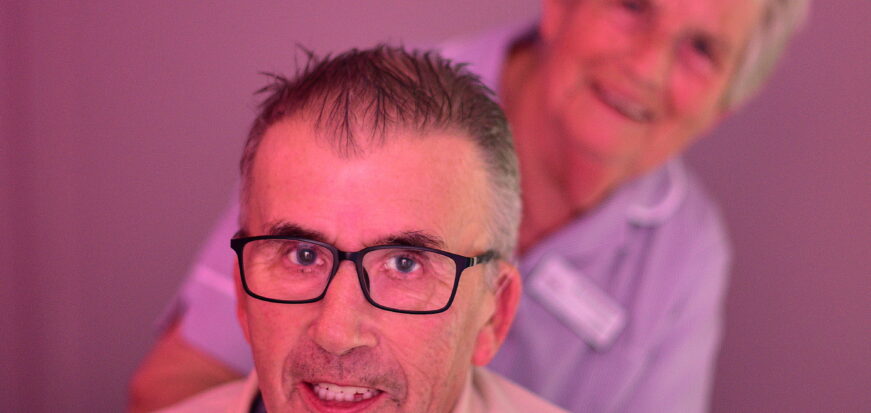 • Massage – Gentle stroking movements are effective in promoting relaxation. Massage can be performed with oils directly onto the skin or dry over clothing.
• Touch therapies – Similar to massage but dry over clothing, covered with a blanket. Very effective in creating a sense of calm.
• Aromatherapy – The use of aromatic essential oils from plants to help improve physical and emotional wellbeing.
• Reiki – A therapist will use their hands to channel positive energies to the patient to aid stress reduction, relaxation and promote healing. During this treatment the patient is fully clothed.
• Reflexology – Gentle finger pressure to stimulate reflex points in the feet, which relate to specific organs and glands in the body. Reflexology helps promote the natural flow of energy around the body.
• Bach flower remedies – Using homeopathic principles, remedies taken as drops in the mouth can be prescribed to help relieve negative emotional states, helping overcome anxiety and stress.
• Relaxation – Learning new relaxation techniques to use independently can improve wellbeing and help overcome anxiety, stress, panic attacks and sleeplessness. Relaxation can be taught individually or in a group setting.
One of our patients found that Reiki and massage really helped her to relax and enabled her to sleep better click here to read Alison's story
Who can use Trinity's complementary therapies?
Complementary therapies are available to patients and their carers who are using any of our other services. Our therapy team can give treatments to in-patients actually in their room at the hospice, as well as in the separate treatment area.
Following referral, our Complementary Therapy Co-ordinator will arrange an assessment to discuss the therapies available, and their benefits. A specific treatment plan will be put together, with an agreed number of sessions. A letter will be sent to each person's GP explaining what therapies may be undertaken. There is no charge for our Complementary Therapies
Treatments are available by appointment Monday to Thursday between 8.30am-5pm. Wherever possible we ask patients to arrange their own transport, but if this is difficult, we have a team of volunteer drivers who can help.
To find out more call the team on 01253 358881 ext 185.