A job with Trinity Hospice is like no other, but what makes it so different?
Could it be the
Warm welcome you'll get from day one, thanks to our comprehensive induction programme
Approach to personal and professional development? There are lots of opportunities across the team, with all the support you need from managers. We hold the coveted Gold Investor in People.
Or how about the
Great benefits We are part of the NHS salary sacrifice scheme, offering staff a chance to buy cars and electrical goods at competitive prices, all done through payroll.
Pension We are part of the NHS pension scheme, so if you are joining us from the NHS you won't have to change a thing. New to the sector? We have a scheme that's well worth considering.
Family-friendly approach We offer generous holidays, child care vouchers, excellent maternity and paternity benefits and flexible working.
Recognition Our annual awards reward staff who go that extra mile.
And what about
Easy access Located on the lovely Fylde Coast, we are just a short hop from the M55, which means 35 minutes from Preston, 50 minutes from Blackburn or Lancaster. We are just off a major bus route too.
Hassle-free parking at no cost. No one is more than a couple of minutes' walk from their workplace at Trinity and you'll never have to spend time looking for a space.
Great meals Because our culinary team prepares food for patients 24/7, they cook for us too. Buy a lovely lunch without leaving the building.
The comfortable working environment. The hospice is a calm place, modern and bright, and full of inspiring people.
Getting involved. Trinity is a great place to unlock hidden talents. Want to run a 10K, organise a tea party or join an overseas adventure? The Fundraising team always has suggestions on how you can do something really different.
Did we mention time?
Here at Trinity everyone has time……. for patients, their families, staff colleagues and volunteers. Yes, we're busy, but there's never pressure to rush: we see our patients and their families as number one priority – always.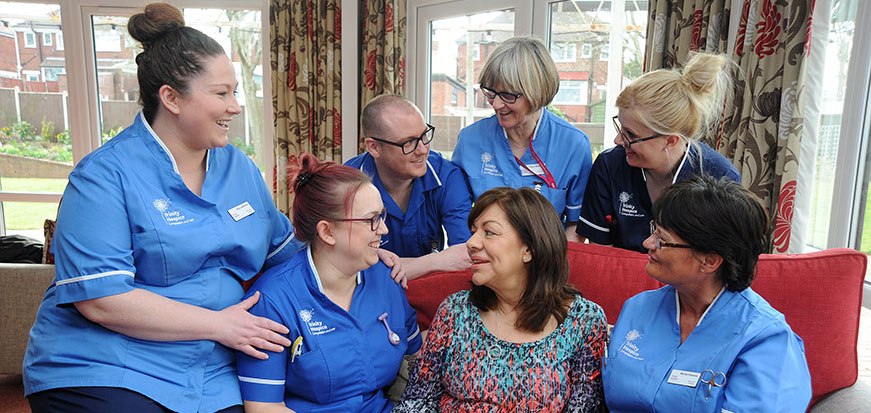 Did we mention values?
We share some important Values here. Caring is number one, but we believe in being adaptable, responsible, excellent in all things, environmentally and socially engaged. Our Values aren't just words on a page; they are embedded in everything we do.
Nothing shows this more than our Outstanding Ofsted inspection and our Investors in People Gold Standard. Here at Trinity we are proud of our high standards and how we will always work tirelessly to make things even better for our patients, their families and our staff and volutneers.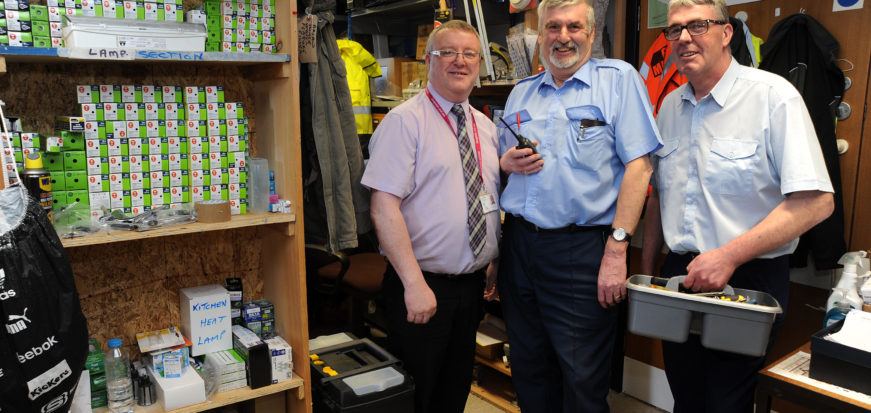 You might be new to the hospice sector – you might wonder if it's for you. If you want to be part of a close-knit team, working in a role that brings a huge sense of satisfaction, Trinity Hospice could be just what you're looking for.
What our staff say
Our annual Staff Survey takes place every summer and the response to the 2017 survey was excellent, with almost 80% of staff taking time to complete the questionnaire.
The survey is carried out independently on behalf of many charities. In 2017 there were 45 UK hospices and 170 different charities taking part, with over 7,800 individual responses submitted.
The good news is that we outperform other hospices and the charity sector in virtually all areas – and some by a considerable margin! From the 47 questions asked, here is a snapshot of what staff think of working at Trinity:
99% say they enjoy the work they do
99% say if a friend or relative needed treatment
they would be happy with the standard of care provided
96% say they are proud to work here
94% say they like their working environment
94% say their line manager is a good person to work for
92% say they feel like they are making a difference
90% plan to be working here in a year's time
87% would recommend us as an employer
86% say they are treated with fairness and respect
80% say they get the support they need to enable me to do my work well
75% say they do not feel pressure to work long hours
Trinity Hospice is registered with the Point of Care Foundation to provide Schwartz Rounds to support the emotional wellbeing of all our staff.