Trinity celebrates dedicated nurses on International Nurses' Day
Trinity Hospice is celebrating its amazing nurses as the world marks International Nurses' Day.
Nurses and Health Care Assistants work across many areas of our hospice, including on the In-patient Unit in Bispham, in the community visiting homes across the Fylde coast during the day and throughout the night, at Blackpool Victoria Hospital and at Brian House Children's Hospice.
Each of them is dedicated to providing outstanding palliative and end-of-life care to everyone with a life-limiting condition in Blackpool, Fylde and Wyre.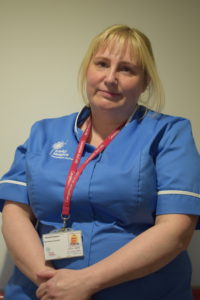 Nurses like Nichola Baldwin (pictured), who is a level three Health Care Assistant on Trinity's In-Patient Unit.
Nichola, 42, started working in care at the age of 16, and started her nurse training five years ago, but it was halted after she suffered a couple of family bereavements.
Her mum, Carol Mitchell, and step-mum Wendy Baldwin died within nine months of each other.
Nichola, who lives in Fleetwood, said: "My step-mum had accessed some of Trinity's care, and I remember her saying that I should be working in a place like this. Well, here I am.
"My role is a bit of everything; I could be spending time with patients on the unit, talking to them and providing care and administering medicines they may need. Then I could be speaking to a grieving family after their loved one has passed away, and guiding them through their next steps and offering support.
"Every day is different, and every patient is different. Some families want to be involved in their loves one's care, so we will support them but be more in the background. But whatever a patient's needs are, we get to spend time getting to know them and the people around them."
Nichola said people often questioned how she could work in a hospice, but she says she had no apprehension about starting her job at Trinity.
"My job is extremely rewarding," she added.
"I know that I am giving the absolute best care I can, and love spending time with patients and their families. Absolutely everyone deserves good care and dignity as they come to the end of their lives, and it makes me happy to know that I am involved in that."
Trinity's nurses have worked through the most difficult 12 months they have ever faced, seeing more and more patients who had tested positive for Covid-19 and needed care at the hospice, at the hospital and in their own homes.
And on top of supporting patients and their loved ones, Trinity's nurses at Blackpool Victoria Hospital also spent time supporting staff on every ward of the hospital after seeing unprecedented levels of death and dying.
Kellie Gittins, Clinical Nurse Specialist Team Leader for the hospital, said: "We saw a vast majority of Covid patients in the hospital.
"It was hard for us, but we recognised that on some wards, the staff were simply not used to seeing so much death and dying at such a high volume. We did spend a lot of time just going around the wards to give the staff a few moments to stop and acknowledge what they had been through, and to be that listening ear for them.
"We couldn't fix or change anything for them, but what they had been through – what we had all been through – was so hard. We just wanted to help where we could."
Trinity's Clinical Director, Nicky Parkes has praised the dedication of all Trinity's nurses.
She said: "Our nurses truly have Trinity in their bones, and they have been nothing short of heroic to the increasing number of patients and their families who have needed them over the last year.
"They have been through the most challenging time, both physically and emotionally, and it really is a privilege to be able to stand alongside them as we continue to care for everyone who needs Trinity's expert care.
"There probably aren't many people on the Fylde coast who haven't been touched in some way by the incredible work our nurses do. And we are only here because of the amazing support we get from our generous community."
Trinity is about to launch a fundraising campaign where supporters can sponsor a nurse, helping the hospice to reach everyone with a life-limiting condition across the Fylde coast.
Keep an eye on our social media for updates. You can follow us on Facebook, Twitter, Instagram and LinkedIn
If you would like to show your support for our nurses, there are lots of ways to do this, including: making a one-off donation,  signing up to Regular Giving, or joining our hospice Lottery. Every individual donation and regular Direct Debit will allow our staff to continue to providing the incredible and vital care to patients across the Fylde Coast. Thank you.