Homecoming concert – it's nearly time!
The excitement is building. Hospice Patron Alfie Boe 'comes home' to Fleetwood on Saturday with a very special Homecoming concert to benefit Trinity Hospice.
The event, at Fleetwood Town FC's Highbury Stadium, will see fans travel from far and wide, and Trinity volunteers will be there too.
Alfie and concert promoters Cuffe and Taylor will give £2 from every ticket to Trinity Hospice and Brian House, which is an amazing gesture.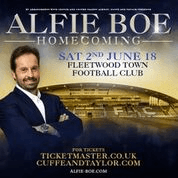 There are a few tickets still available – but don't leave it until the last minute or you might miss out!
Here's hoping for a wonderful evening, with perfect weather and a 'Homecoming' atmosphere like no other.
Thanks again guys – from all staff, patients and volunteers here at the hospice. What a difference you are making!