Support Brian House Children's Hospice and win an Apple Watch!
How would you like to win an Apple Watch worth over £250? 
As a Night Run participant you'll be in with a chance if you raise or donate over £50
How to raise sponsorship or donate
Raise sponsorship online through JustGiving: set up a page and share it across social media, in emails and via WhatsApp.
Fundraise offline and collect in the money using our paper sponsor form: if you don't just want to ask people to sponsor you, think outside the box. You could host a bake sale, sell unwanted items online or at a carboot, or even run a sweepstake asking people to guess your chip time.
Every now and then, we are able to throw an extra special farewell party for the children and young people who no longer need our expert care. 
For children like Emily, who truly is one of a kind.
Full of life and happiness, Emily is living with a condition doctors can't name. She was born healthy, following a healthy pregnancy. But when she was struggling to gain weight and seemed limp and lethargic, she was sent to hospital for tests.
Despite everything coming back negative, Emily remained unwell – unable to move her body or feed without a tube. Knowing her family would need extra support, Brian
House visited them in hospital.
Kelly said: "To hear that Emily would need a hospice - my heart sank! You think a hospice is somewhere where people die. But we were open minded and listened to what they had to say and the opportunities they could give
not only to Emily, but to us as well."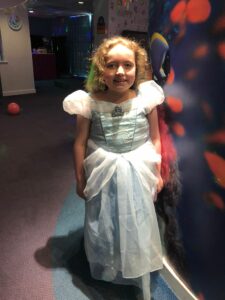 Over seven years, Emily has enjoyed day  visits and overnight stays at Brian House, enjoying days that were full of fun – making friends and creating memories to last a lifetime.
Kelly added: "When Emily was at Brian House, I got the chance to recuperate, do the housework or simply have a bath. It meant the world to me."
After operations, physio and many interventions, Emily is now able to eat without a tube. Although she can't move as much as other children her age, she is doing better than doctors could have predicted.
Kelly said: "Saying goodbye to Brian House is very bittersweet. It's great that she's now well enough to not need hospice care, but she's had such wonderful experiences and
made such good friends, it's a place we'll truly miss."
Terms and conditions: Any sponsorship submitted or donations made after 30th August will not be entered into the prize draw. Full Ts&Cs can be read here.