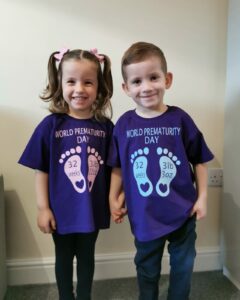 By taking part in Night Run, you are helping us to care for our area's most fragile children – children like Charlie who we started to care for in the middle of the pandemic.
Charlie is well known at the assessment unit at Blackpool Victoria Hospital, and the nurses had mentioned a referral to Brian House a few times, but I resisted. I just thought Charlie is my child; I am his parent. It's my job to look after him. But the nurses saw the strain on my face and mentioned that Brian House could be there for his twin sister Daisy through sibling support as much as they could be there for Charlie.
So in August, we went to have a look around. I just kept looking at Charlie, and thought as long as he was happy, it was something we could start doing. Well, he absolutely loved it. So we put in our application and the staff at Brian House started coming to our house for support visits.
Charlie just fell in love with them and he was so excited to start going to Brian House.
On his first night, after Daisy went to bed, I just sat there. I didn't realise how much I do for him at night, and then I had nothing to do.
I was anxious about leaving him there, but the staff had done so much with him to get him used to them that Charlie wasn't worried or upset at all. He was so happy to go in, and that put me at ease.
When I went to pick him up the next day, he had the biggest smile on his face, and he told me everything they'd done with him. He's already asking me when he can go back.
You can support children like Charlie and his family by either raising sponsorship for taking part in Night Run, or making a one off donation.
If every person reached or gave just £30, that would total £180,000. That's enough for nearly two months of specialist care at Brian House.
Click here to set up a JustGiving page