I was anxious about coming in for an assessment…I need not have worried, from the first week I loved it!
Our Day Therapy Unit helps patients who have been diagnosed with conditions such as cancer, heart failure, COPD or motor neurone disease to manage their symptoms, maintain their independence and improve their quality of life. We aim to promote physical, psychological and spiritual well-being over a 16 week course.
Attending Day Therapy for one day a week is an opportunity for patients to meet other people in similar situations and join in activities such as relaxation, music and art therapy. A three course lunch is served and refreshments are provided throughout the day. There might be a visiting speaker, a singalong or even a Pantomime! New friendships are made, new experiences shared, and it's a positive step towards rebuilding confidence and combatting the sense of isolation serious illness can bring.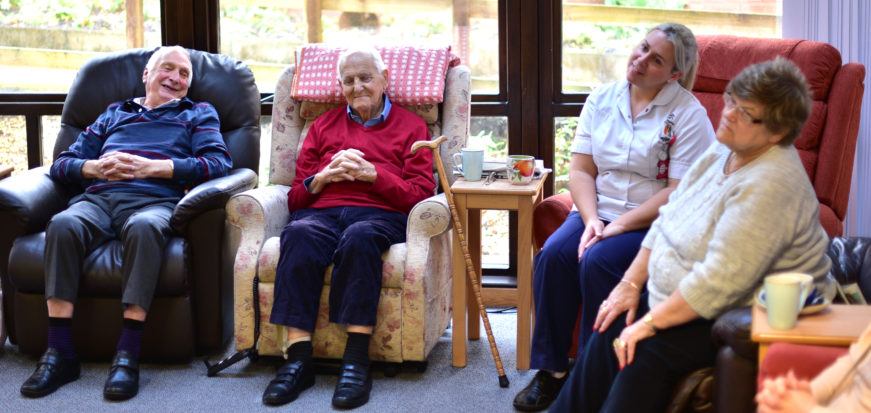 Our team works closely with each patient and their GP and if appropriate, patients may be referred to additional Trinity services including physiotherapy, counselling, complementary therapies and spiritual support. Because everyone's different, we try to put together a tailored package to suit each individual.
Day Therapy sessions start at 10am and wherever possible we ask patients to arrange their own transport, but if that's a problem, don't worry, we have a team of volunteer drivers who pick patients up from home and return them later in the day.
Patients attending Day Therapy often find that their family members and carers also benefit – they get the chance to have some time to themselves, confident that their loved one is safe, happy and being well cared for.
Some patients say Day Therapy is like a lighthouse, shining a beam to guide them across stormy waters. Others say that Day Therapy gives them the chance to 'feel normal' again.
I look forward to coming to the Hospice, it gets me out of the house and I've made some friends and enjoy listening to their interesting stories.
We encourage our patients to tick some items off their bucket list – and our fantastic supporters help make it happen. We call them our Bucketeers!
Who can access Day Therapy?
Any adult with a life-limiting illness can be referred for Day Therapy at Trinity. Patients must be referred by a health care professional; this could be their Consultant, GP, District Nurse or social worker.
Once we have received a referral, one of our nurses will be in touch to arrange a visit to Day Therapy, so that a full assessment can be completed. It also gives patients a chance to look around, meet the team and ask any questions.
Is it for all ages?
All ages, all interests, all backgrounds. Patients can range from their 20s to their 90s and live anywhere on the Fylde Coast. Our staff and volunteers promise everyone a very warm welcome.
To find out more call the Day Therapy team on 01253 359357